The future remains uncertain for the condominiums and retail stores proposed for the colossal former Navy office complex in Bywater, site developer Joe Jaeger told a group of frustrated neighbors Tuesday night, blaming years of delays largely on the federal government. 
In partnership with the New Orleans Office of Economic Development and the New Orleans Police Department, Jaeger's EMDRC Partners hosted a neighborhood meeting at Bywater Brew Pub to update residents on his plans for one of the most blighted properties in the city. Facing a crowd of about 40 neighbors, Jaeger was blunt: It's entirely possible that his vision for the project will never come to fruition, despite the roughly $2.9 million he said he's already invested in security, insurance and project management.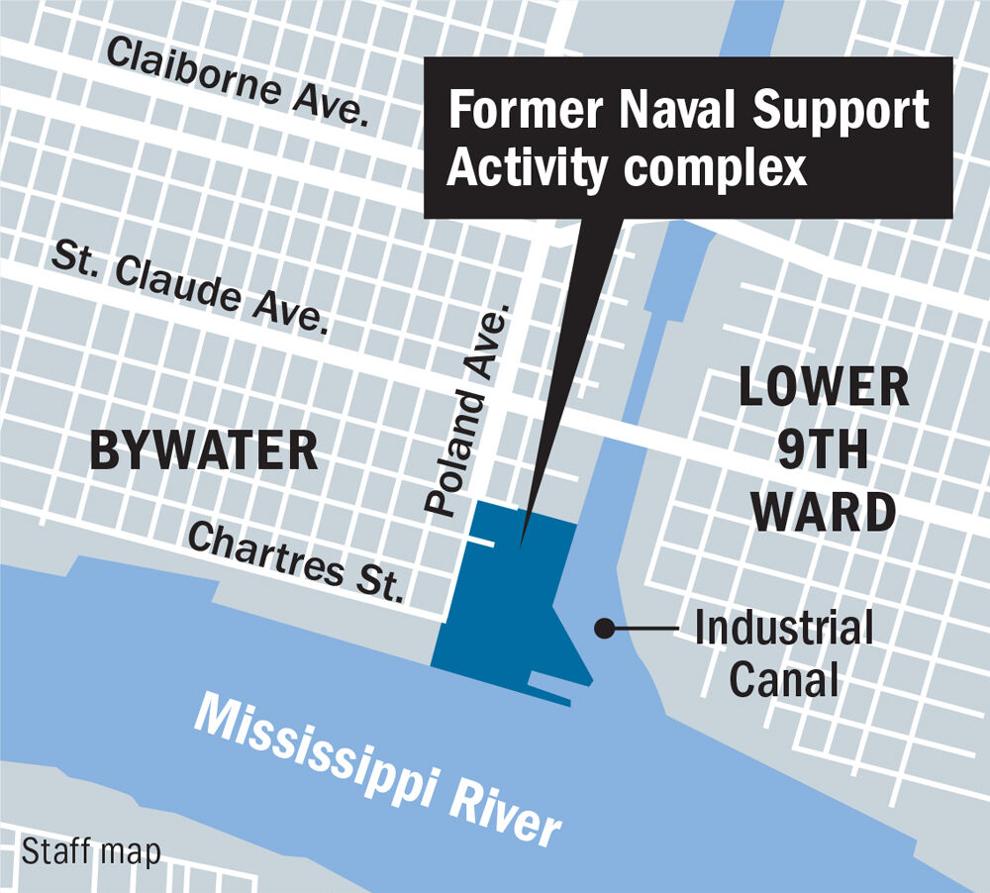 "It's all about the financing," Jaeger said. "It don't matter what the city does. It don't matter what I do. It don't matter what we do — it's all about the financing."
Neighbors have long been enraged over the condition of the 100-year-old base — a complex of three buildings and 1.5 million square feet — saying the once-bustling campus has become a magnet for crime. Police were called to the base or the adjacent area 176 times from last June to May of this year, NOPD spokesperson Gary Scheets said, though the details of those calls weren't immediately made available.
As part of a wave of base closures, the Navy "disestablished" the operations in the Bywater in 2009 and left in 2011.
At Tuesday's meeting, Jaeger laid out years of back and forth between EMDRC Partners, City Hall and the U.S. Department of Housing and Human Development over the project's funding. After New Orleans took ownership of the property from the Navy in 2013, Jaeger said it took city officials more than three years to come up with a lease agreement for EMDRC Partners. Negotiations with HUD for redevelopment financing haven't been any easier, he said. 
"We haven't seen any, in my opinion, any kind of commitment from the federal government that they want this project — that's needed in New Orleans — to go," Jaeger said.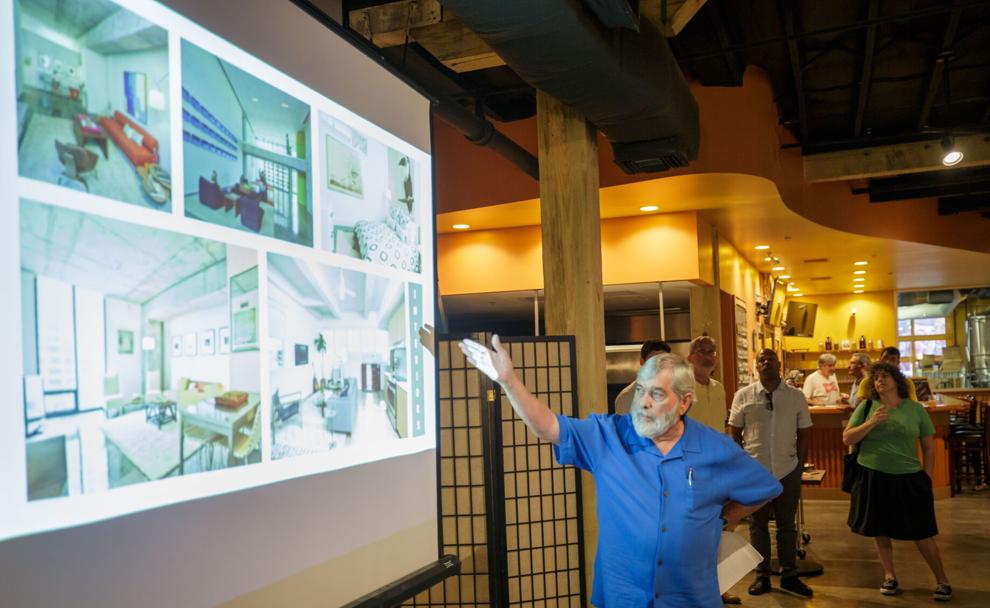 New Orleans is on its second mayor, and the U.S. on its third president, since the city acquired the property.
The first phase of Jaeger's project would include 295 residential units atop 40,000 square feet of retail space, at an estimated cost of $120 million. Jaeger, who was born nearby in the Lower 9th Ward, said he envisions the property as an affordable place to primarily house service industry employees and other workers and as space for local small businesses.
He said he doesn't want to give up on the project, but that without HUD or some other kind of grant money coming through in the next six months, it won't happen. At that point, he said he'd consider handing off the property's keys to someone else. 
"Has it taken too long? You bet," Jaeger said. "I didn't want to give up 10 years of my life fooling with this project." 
Jeff Schwartz, Mayor LaToya Cantrell's economic development director, was more optimistic. 
In an effort to "fully secure" the former F. Edward Hebert Defence Complex for redevelopment, more than 70 police officers and private security guards on Monday evicted as many as 50 squatters from the hulking site and filled dumpsters with debris. 
City officials said the sweep was long overdue after years of deterioration, and that it moved Jaeger's stalled plans to redevelop the site a step forward. 
"We're incredibly excited about where we are," Schwartz said. "We would not have undertaken yesterday and made all this effort if we didn't think there was a project that was going to be moving forward there." 
Neighbors complained that efforts to increase security at the property are already failing, and Jaeger at one point said one would "need an army" to adequately police the site. But Schwartz assured residents that there won't be people camping outside the buildings or building drug laboratories inside.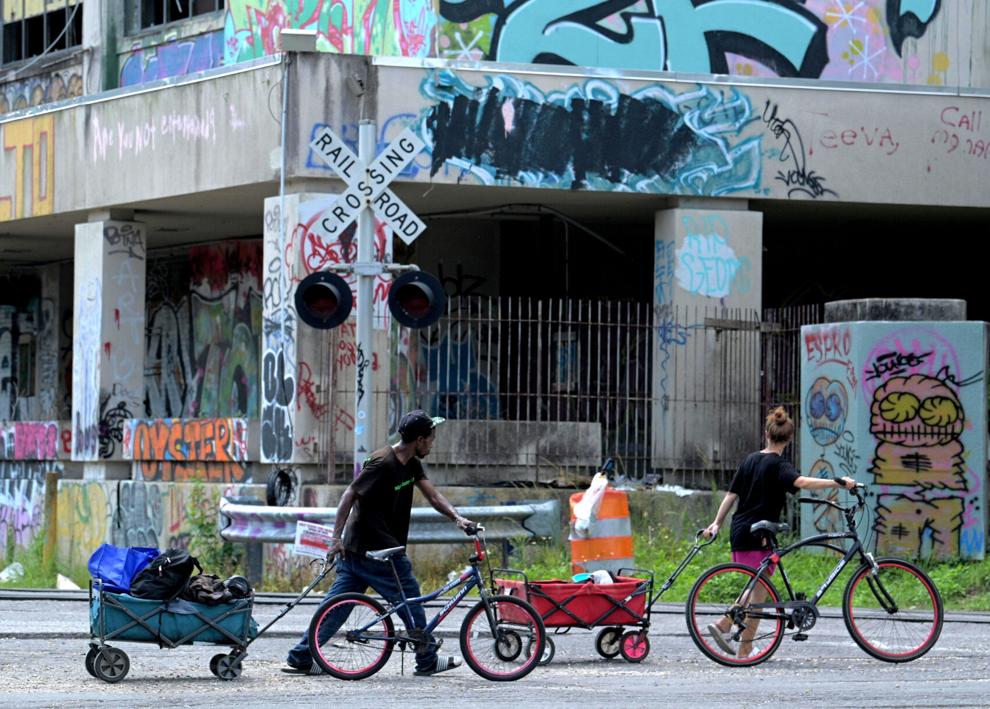 If more development activity starts, he said, that issue will likely resolve itself. 
"I'll just speak from my sort of perch," Schwartz said. "I'm confident that we're going to get there in the next six to eight months." 
Topics
#developer
#Real Estate
#Real Estate Agency
#Real Estate Biz
#Real Estate Sale